Increasingly, brands and retailers in the cashmere sector are looking for ways to enhance their corporate social and environmental responsibility. Full members of the SFA will have the opportunity to invest directly and efficiently in multi-year, field-level sustainability efforts in Mongolia and Inner Mongolia through our individual work programmes.
These programmes are targeted at a smaller scale than our core work and offer an opportunity to support something unique and individual to your brand that contributes to the 2030 Sustainable Development Goals.
The SFA will provide support in selecting a program that best fits your requirements. Your selected programme will become your story to tell, providing you with measurable impact to share with your consumers that will demonstrate your commitment to a sustainable cashmere sector.
Examples of our individual work programmes are listed below
Young Herders
Sustainability Awards
Women Empowerment
Animal Welfare
Water Stewardship
Breeding & Fibre Quality
Wildlife Guardian
Young Herders
Young Herder Programme
The SFA Young Herder Training programme is focused on the children of nomadic herders – Mongolia's future generation of cashmere producers. The program is founded on the idea that traditional herding methods are not only best for the land, but at the foundation of Mongolian pastoral culture. Passing on this traditional knowledge to the next generation is vital for preserving Mongolia's unique pastoral culture.
One way to achieve this goal is to provide education and training opportunities for Mongolia's young herders. Thus, the SFA have created a course in sustainable rangeland management which draws both on scientific and traditional knowledge. Using specially developed textbooks, modern regenerative farming theories have been incorporated into a foundation of cultural traditions.
The Young Herder Training program was launched in 2018 in Khentii province. In its first year, a total of 450 children from 7 schools graduated from the course. Now in its second phase of development, the programme is being extended across the whole Khentii region. We hope to expand into other regions in the future, supporting young herders across the country in becoming custodians of their natural environment.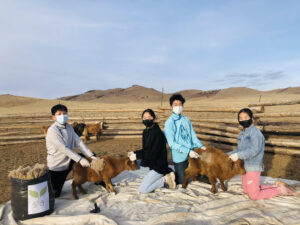 Sustainability Awards
Women Empowerment
Animal Welfare
Water Stewardship
Breeding & Fibre Quality
Wildlife Guardian