Women Empowerment Programme for Herders in Mongolia
J.Crew and the SFA support nomadic female herders through a series of workshops designed to elevate them to leadership positions and give them tools for success
LONDON, UK – JUNE 8, 2021 – The Sustainable Fibre Alliance (SFA) is proud to announce the successful launch of its Women Empowerment Programme in Mongolia, supported by J.Crew. The SFA, is a non-profit organisation which works to promote a globally recognised sustainability standard for cashmere. Founded by two Mongolian women and with more than six years of working with the extended cashmere supply chain – from herders to retailers, the SFA recognises that women herders in Mongolia, despite having the potential to bring tremendous value to the cashmere supply chain, are hugely underrepresented within decision-making roles in their communities. The women empowerment programme has therefore been established in partnership with J.Crew to help lift these women towards leadership roles.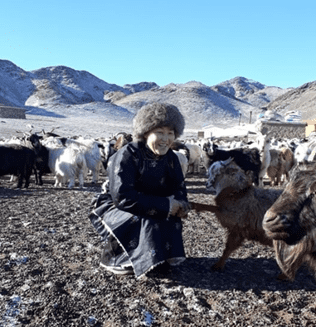 The programme involves a series of training workshops which target various issues within the industry – from better codes of practice when harvesting and sorting cashmere, to the importance of cooperation between supply chain stakeholders. Through gaining understanding of what the cashmere sector is looking for, the herders add value to their cashmere and strengthen relations with buyers, thereby securing their future income. The aim of the workshops is to ensure that women herders have the knowledge and skills that will help improve their social and economic participation within the cashmere sector and enable them to contribute to decision-making in their community.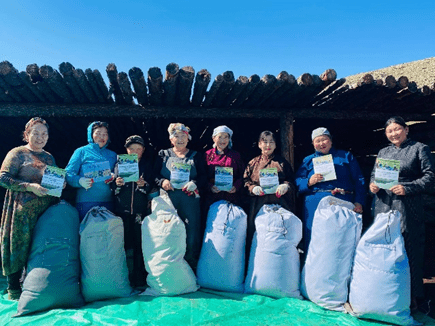 Despite the early challenges posed by Covid-19 restrictions, virtual and in-person meetings have achieved high attendance and positive feedback from both instructors and participants. Fifteen instructors have carried out workshops for nearly 700 women from 31 herder cooperatives across Mongolia. The value of the course has been recognised at the national level and participants will be receiving a certificate from a vocational body – the Technical Vocational Education.
Participant Narantuya Gendensuren, a member of 'Yavyn Bulag' cooperative, Khentii province, commented on the workshops, "I have gained a better understanding of cashmere preparation and I believe we will be better able to enter the world market if we produce cashmere according to these standards."
"J.Crew is committed to be a part of the Sustainable Fibre Alliance and continue to empower women herders in Mongolia by improving their economic and social standing," says Lisa Greenwald, Chief Merchandising Officer of J.Crew. "We know that investing in women leads to benefits for their families and communities. This program will give over 1000 women herders access to programs to help grow their individual businesses and take important leadership positions in their communities. We are proud to be partnering with the SFA on this important work and are committed to continuing to protect the future of women herders and the cashmere industry."
Batkhishig Baival, Country Director of SFA Mongolia comments on the mission of the programme, "I am very confident that it is possible to improve the quality of cashmere harvesting and post-harvest management in a shorter period of time through educating and empowering rural women. Mongolian women herders play key roles in their communities, so we are expecting positive changes in herder life and hope that they will be able to share and demonstrate what they have learned during this training with others. To develop the competence-based training curriculum, we are collaborating with the government vocational education institute and national training professionals to make this programme targeted and regionally-appropriate".
About The Sustainable Fibre Alliance
Founded in 2015, the Sustainable Fibre Alliance is a global multi-stakeholder initiative with a mission to ensure the long-term viability of the cashmere sector through its SFA Cashmere Standard. In Mongolia the SFA works with nomadic herders to produce cashmere in a way that protects biodiversity and ensures the wellbeing of their animals. The expansion into the autonomous region of Inner Mongolia in China, marks the world's first global cashmere standard. For more information, visit https://sustainablefibre.org/
For press inquiries, contact Sarah Krueger: sarah.krueger@sustainablefibre.org
About J.Crew
J.Crew Group is an internationally recognized omnichannel retailer of women's, men's, and children's apparel, shoes, and accessories. As of May 27, 2021, the Company operates 151 J.Crew retail stores, 144 Madewell stores, and 147 J.Crew Factory stores in nearly every state in the United States, and also maintains J.Crew, Madewell, and J.Crew Factory websites.
For more information visit jcrew.com, madewell.com and jcrewfactory.com.
+++